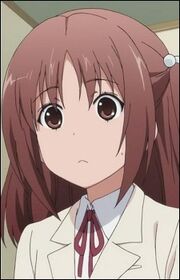 Yuka Uchida (内田 ユカ, Uchida Yuka)
Voiced by: Eri Kitamura
In class 5-1. Chiaki's friend. She helps Makoto with his cross-dressing along with Kana. She is not seen as a smart character and was actually forced by Makoto to join "Team Idiot". Impulsive and a little lacking in common sense, she is belittled by Chiaki and Keiko often, and recruited by Kana to join her silly escapades.
Trivia
Uchida is unique in that she is the only character outside of the two Minami families whose full name is known. It was stated in Chapter 053 of Volume 03.
お前の下の名前 (Your "below/lower portion" name) (first name, western style)
なんだっけ (What is it)
ユカ です! (It's Yuka!)
内田 ユカ! (Uchida Yuka!)
External links
Ad blocker interference detected!
Wikia is a free-to-use site that makes money from advertising. We have a modified experience for viewers using ad blockers

Wikia is not accessible if you've made further modifications. Remove the custom ad blocker rule(s) and the page will load as expected.