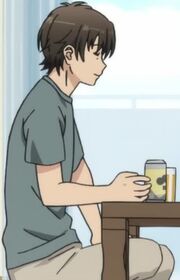 Takeru (タケル)
Voiced by: Shintaro Asanuma
First cousin of the three sisters, specifically the son of their mother's older sister, making it very unlikely that his family name is also Minami. There is a possibility that he lives and works in Nagoya, or that his branch of the family lives there. He occasionally visits the Minami sisters to check up on them and presumably give them their monthly allowance. He often makes blunders and Kana, in contrast to Haruka and Chiaki, feels he is "pathetic". He later starts to feel some resentment towards Fujioka because he feels as if he is closer to the three girls than he should be. He has an on-and-off relationship with a Reiko. His hair is blue in the first series but changed to green in Okawari; his hair is brown in Okaeri.
First appearance Minami-ke Chapter 007 as Oji-san
Ad blocker interference detected!
Wikia is a free-to-use site that makes money from advertising. We have a modified experience for viewers using ad blockers

Wikia is not accessible if you've made further modifications. Remove the custom ad blocker rule(s) and the page will load as expected.