Ad blocker interference detected!
Wikia is a free-to-use site that makes money from advertising. We have a modified experience for viewers using ad blockers

Wikia is not accessible if you've made further modifications. Remove the custom ad blocker rule(s) and the page will load as expected.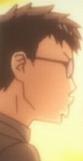 Sensei (先生)
Voiced by: Shintaro Asanuma
Character from a drama television show the Minami family watches during dinner. Ninomiya is a student who falls in love with her unnamed teacher (Sensei). There is a video game adaption of the drama show, owned by Keiko. Later in Tadaima a romantic rival to Nino appears in Sannomiya.
First appearance Minami-ke Chapter 012