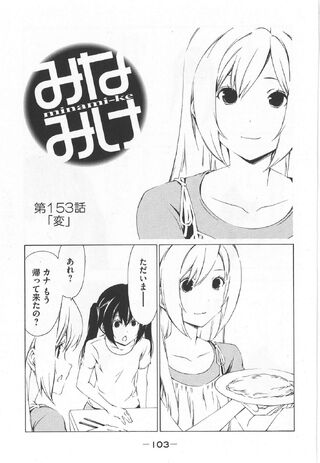 Title:みなみけ 第153話 「変」 (eng?)
Published: 5 July 2010 Young Magazine
Synopsis
An Episode showing Haruka and Kana eating Noodles , Kana complains about the noodles saying that eating noodles made her lazy. And other stuff that annoys haruka. then she sees haruka eating her noodles in a coffee cup. Kana then gives some comical comments on Harukas way of eating noodles.
Chiaki and Touma appear later on bringing the Topic onto a deeper Conversation.
Referbacks
Trivia
"other"
Cultural References
"easter eggs"
Unanswered Questions
Memorable Moments
Quotes
Ad blocker interference detected!
Wikia is a free-to-use site that makes money from advertising. We have a modified experience for viewers using ad blockers

Wikia is not accessible if you've made further modifications. Remove the custom ad blocker rule(s) and the page will load as expected.